The purpose of this page is to recognize fellow firefighters for their accomplishments during their employment with the Cleveland Fire Department. Click on a link below for more info.



Life Saving Awards
1999 Awards Ceremony
2000 Awards Ceremony
1997 Firemen of the Year
1998 Firemen of the Year
1999 Firemen of the Year
2000 Firemen of the Year
Congratulations to the 1998 Louisville
Firefighter Combat Challenge Team. Great Job!!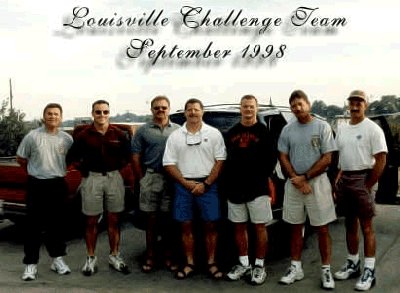 Pictured from left to right: Lt. Steve Haun, FF Ron Harrison, Capt. Buddy Smith, Lt. Greg Hooper FF Dennis Duggins, Capt. David McAmis, FF James Rogers, also not pictured FF Chuck Payne



The Cleveland Fire Department would like to congratulate the following individuals for being selected as Firemen of the Year!


Cleveland Fire Department
1997 Firemen of the Year
| | |
| --- | --- |
| | Battalion 1 Firefighter Ron Harrison |
| | Battalion 2 Firefighter James Williams |
| | Battalion 3 Lieutenant Kenny Hyde |
Cleveland Fire Department
1998 Firemen of the Year
| | |
| --- | --- |
| | Battalion 1 Lieutenant David Lee |
| | Battalion 2 Lieutenant Alvin Howard |
| | Battalion 3 Engineer Steve Clayton |
Cleveland Fire Department
1999 Firemen of the Year
| | |
| --- | --- |
| | Battalion 1 Lieutenant Greg Hooper |
| | Battalion 2 Lieutenant Ray Norman |
| | Battalion 3 Lieutenant Leon Dixon |
Cleveland Fire Department
2000 Firemen of the Year
| | |
| --- | --- |
| | Battalion 1 Firefighter Dennis Duggins |
| | Battalion 2 Lieutenant Kenny Westfield |
| | Battalion 3 Lieutenant Charles (Bozo) Queener |